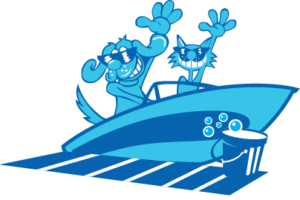 On Your Dock Detailing was founded in 2004 with the goal of providing a high quality, convenient boat detailing service to Central Indiana customers at an affordable price. The company started providing service on Morse Reservoir and quickly expanded as word spread about the service. Morse lake customers were surprised with how great their boats looked after a proper detailing from a professional and began to tell their friends and neighbors on other lakes. Soon the service expanded to Geist Reservoir and other lakes in the Indianapolis area that are primarily for pontoon boats.
Before On Your Dock, customers had to spend hours cleaning their boats themselves or taking them out of the water for several days to another location and paying a high price to have the service completed. On Your Dock Boat Detailing simplified this process by coming to the homes of customers, or where their boat was located such as a the marina and detailing their boat. We are able to keep our prices much lower than our competitors by running an efficient and lean operation. We are an entirely mobile business, so we don't have a warehouse, an office, or a lot of overhead, and we pass this savings along to you.
Our quality is superior because our team members are well-trained, experienced, and paid by a percentage of the earnings of the business. We have found this motivates our team members and helps them deliver a much higher level of quality because they have a vested interest in the quality of work, customer retention, and customer satisfaction.
We now serve boaters all around Central Indiana such as in Noblesville, Fishers, Indianapolis, Carmel, Westfield, and Avon. We clean, detail, and wipe down boats and pontoon boats on Morse Reservoir, Geist Reservoir, Nantucket Bay, Clearwater Cove, Lake Kesslerwood, Lake Stonebridge, Crystal Lake, and several others.
Give us a call today for a free estimate and to learn more about our service. If you let us earn your business we guarantee your satisfaction and know you will be happy with your clean boat.