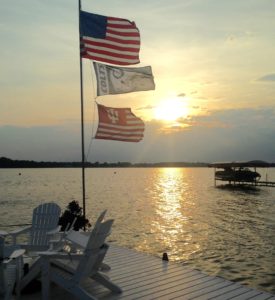 Hello and thank you for checking out our website. This will be our 14th season in business and we are excited for another start to a great boating season in 2018. We have been in business since 2005, have grown to serve hundreds of Indianapolis boaters, and would love the opportunity to earn a new customer. We are currently preparing for another great boating season and look forward to serving you.
We provide boat detailing, boat cleaning, and boat waxing services on Geist, Morse, and all of the other lakes around Central Indiana. We detail your boat right on your dock at home, in your driveway, or at the marina. We come where it is most convenient to you! We do a full interior and exterior cleaning that removes all of the mold and dirt from your seats, stains from your carpet, and makes your boat look like new. We also will wax and shine up the exterior of your boat and apply a premium UV vinyl conditioner and protectant to your seats.
We have a process that has been refined on thousands of boats that we guarantee will make your boat look great. We use only the highest quality products, mostly from Meguiar's, and all are safe for your boat surfaces and the lake water. We invite you to save several painful hours of trying to clean your boat yourself and leave the dirty work to us! We know you'll be very satisfied and happy that you did and we would appreciate the opportunity to earn your business.
There is a reason we are the best boat detailer in Indianapolis and the majority of our customers return to use our boat cleaning services every season. We care about you and your boat and we always perform the same quality of work for you that we would expect someone to do for us. Give us a call today for more information, a free estimate, or to schedule and leave the dirty work to our experts!